Wondering why this is step 9? This is a continuation of our steps you need to take in order to become a travel nurse. You can check out our post on choosing a trailer, and the first and second posts about our renovations. Enjoy!
When I first started organizing this series of posts, I tried to write what we did day by day, but the days and the tasks all blended together. We didn't really paint first and then worry about the desk second. We made these changes all at once over the course of 10 days. Waiting for paint to dry meant you better be sanding down the headboard, or hemming curtains, or figuring out what dishes you want to haul with you. I've organized this series in "steps" because it's easier to digest this way, not because we actually did these steps in this nice, leisurely order.
Step 8: PAINT AGAIN. After our first paint conundrum, we repainted the whole place with the new, right color. This time we went with "gentle sea" for all but one wall. That one wall, the bedroom wall, got a darker "accent" blue.
This creates the illusion of depth and allows me to pretend like the bedroom is a private space, when really you and I know that anyone in the kitchen/the entire campground can hear when someone sneezes in the bedroom. The accent color is NOT called "romantic isle" (as much as I would like it to be, romantic isle was too purple), but is something dull like "washed denim." I can't remember exactly what.
STEP 9: CHOOSE VALENCE UPHOLSTRY. I hated the velour, leaf patterned, valences almost as much as I hated the button on curtains. They made the space look dark and closed in. I wanted something that would bring light, texture, and look less like a hunting cabin and more like an apartment.
Amateur tip: Keep the old material and label each fabric swatch AND each wooden valence. The old material can serve as your pattern for the new material and take the guesswork out of cutting the new fabric. Regardless of this trick, I had to calculate and recalculate how much fabric I needed several times. Always buy extra.
There were many patterns that I thought were just okay, but when I finally decided on a pattern, of course they didn't have enough of it at the local store. My kinder-than-carebears mother in law drove 4 hours with me to pick up this dang fabric—and I'm so grateful she did. I see the pattern in all spaces of our trailer, all the time, every day and I don't hate looking at it.
Tip: I also bought batting, maybe an inch thick, to tuck between the wood and the fabric. This helped soften the wood edges out a bit. The batting also made it easier to fudge the fabric pattern so it looked uniform from valence to valence.
STEP 10: STAPLE GUN RAMPAGE. Wow is a staple gun gratifying after 5 days of detailed work on a small space. Make sure to line up the bottom of the pattern on the bottom of the valence so nothing looks wonky.
The fabric gets wrapped around the wood like paper around a present. I stapled the life out of mine and still used 1/3 of the staples the manufacturers had. Those RV workers showed a true rage through the medium of staples.
I'm full of tips: I'd also recommend leaving one valence wrapped in the original material. Even though it seems like re-wrapping the valence would be easy and obvious, it's so much easier if you have an example to follow.
STEP 11: RE-MANTLE TRAILER WINDOW TREATMENTS. Screw those freshly vacuumed blinds back up there. Bolt those valences to the walls. Isn't it so nice that you labeled all the bolts and blinds and valences to take the guess work out of which piece goes where?
We added sheer curtains to let in light, but maintain some semblance of privacy. The curtains were recycled from our old apartment and hemmed to length. We stuck them in the window with tension rods on the inside of each valence. The result is a really bright and airy looking space. So much better than button on leaf velour.
STEP 12: HUNT FOR FURNITURE. We did not want to eat all our meals in a booth, so we ditched the original dinette for table and chairs. We found a cute little café table set from craigslist. Paul thought the table was too big, so we decided to keep the original table, but turn it sideways. We used the craigslist chairs and they double as our desk chairs.
We also ditched the original twin lounge chairs that were across from the couch. I would have liked to ditch the couch and perhaps the double mattress, but we will have to save that for another round of trailer upgrades.
STEP 13: PLAN A DESK. The trailer is also my office, so I needed a workspace. We planned to put an L shaped desk facing out the front window with enough space for 2 people to work and 2 storage areas. By planned I mean we put masking tape down on the ground in the shape of what we'd like to be our desk.
The tape was a nice visual, but the real planning was accomplished by our friend, Greg. Greg is a genius when it comes to woodwork and playing Billy Joel tunes on the piano. He measured our taped out space, as well as regular desk chairs, and the faux-side table under the window. From those measurements, he created a plan for the desk.
The basic design is thus: L Shaped counter stacked on a shelving unit (near the door), a filing cabinet (near the kitchen) and a square leg (to support the back of the desk).
STEP 14: FIND FILING CABINETS. We picked a cabinet from Ikea and then Greg made a shelving unit to match the cabinet. Ikea shipping is ridiculous, so we decided to put a temporary leg in until we passed an Ikea—we would pass several on our cross-country trek to our first Travel Nurse assignment.
STEP 15: BUILD COUNTER TOP. Again, Greg did most of the hard stuff. He cut and sanded the countertop to perfection and wiped it down with teak oil so it's shiny and water resistant. We secured the counter top to the two shelving units with L brackets, but not to the wall, since we expect the trailer to shift and torque a little on the road and we did not want to snap our lovely new desk.
Greg also finished the desk with holes and fancy covers for our computer cables and some cut-to-perfection-edging. This desk is a thing of trailer life beauty and I wish I could give you easy laymen's steps to complete it, but I can't. You'll need Greg to start his own blog for that.
STEP 16: SCROUNGE FOR HEADBOARD MATERIAL. A headboard is one of those details that makes a trailer feel like an apartment. We were advised by the more aesthetic set to go with something neutral, so I schemed up a wooden pallet dream boat. Pallet boards are to home design what mason jars are to weddings. It's so easy, cheap, and Pinterest worthy, I want cry into my chai latte.
I found the pallet boards by a Christmas Tree Shop dumpster and threw six of them into the truck—six may seem like over kill, but not every board would be usable. I spent the next several days banging on the boards to try and separate them and remove all the nails.
A rough measurement of the old headboard height and the bed width gave me an outline to fill with whatever boards I liked best. I taped out the space on the ground and rearranged the boards into a pleasing pattern. Some measuring and pencil marks reassured us that we'd created a mostly-uniform rectangle.
Paul cut the pieces to size and I sanded the crap out of them. The downside to pallet board is that they are very rough, riddled with nails and warped. The knots and varying textures give that rustic look, and allowed us to forgive all the imperfections with our design. The boards do not lay flat against the wall, fit together like a jigsaw, or feel like silk (even after all the sanding), but they look nice enough to be a trailer headboard.
STEP 17: INSTALL HEADBOARD. We used a "nailer" or three strips of plywood drilled to the trailer wall to install our pallets. There were a few screws that breached the outside of the trailer, and Paul had to caulk over these holes. Still, the nailer let us bend around the arch of the trailer and helped us avoid nailing each pallet board to the trailer itself. (which probably would have resulted in many more holes).
STEP 18: INTERNET. Paul writing here, Internet on the road can sometimes be tricky. So we fit ourselves with a couple solutions. I'll post about those changes at some later date, I promise.
STEP 19: PEEL AND STICK BACK SPLASH. This actually happened at step 106, which is to say, in Tucson, weeks after we had hit the road. There was a debacle with our tiles getting sent to the wrong address etc. When we finally got the faux-tiles, it was extremely easy to measure and cut with an exacto knife. The Smart Tiles website has a calculator to help estimate how many slabs you'll need and a video on installation. It's very simple, light, and it does that same trick of making your space look more spacious and adult like. Check the final result gallery at the bottom of this for the pictures.
STEP 20: PACK AND PARTY. We left ourselves a day to pack and clean up. We tried to narrow our remaining belongings down to only the most important clothes we'd need for a year in all different climates, with unknown standards of etiquette, and while also attending at least three weddings. We checked all the dishes to make sure they could actually fit in the oven/on the stove. Still somehow, we have 2 pans that don't fit on or in anything and we both forgot our dress shoes.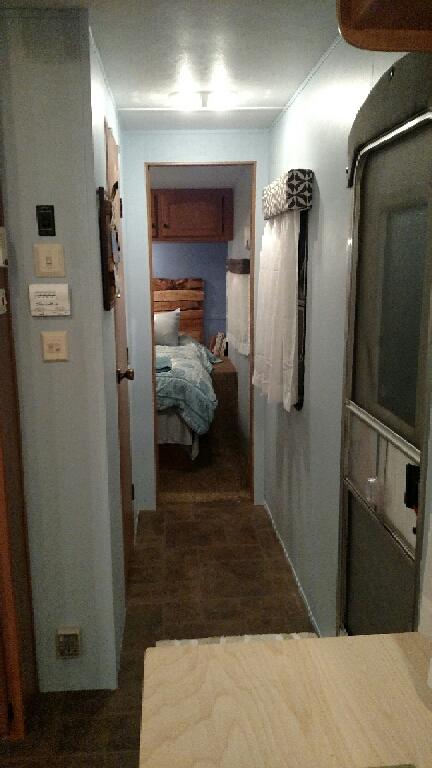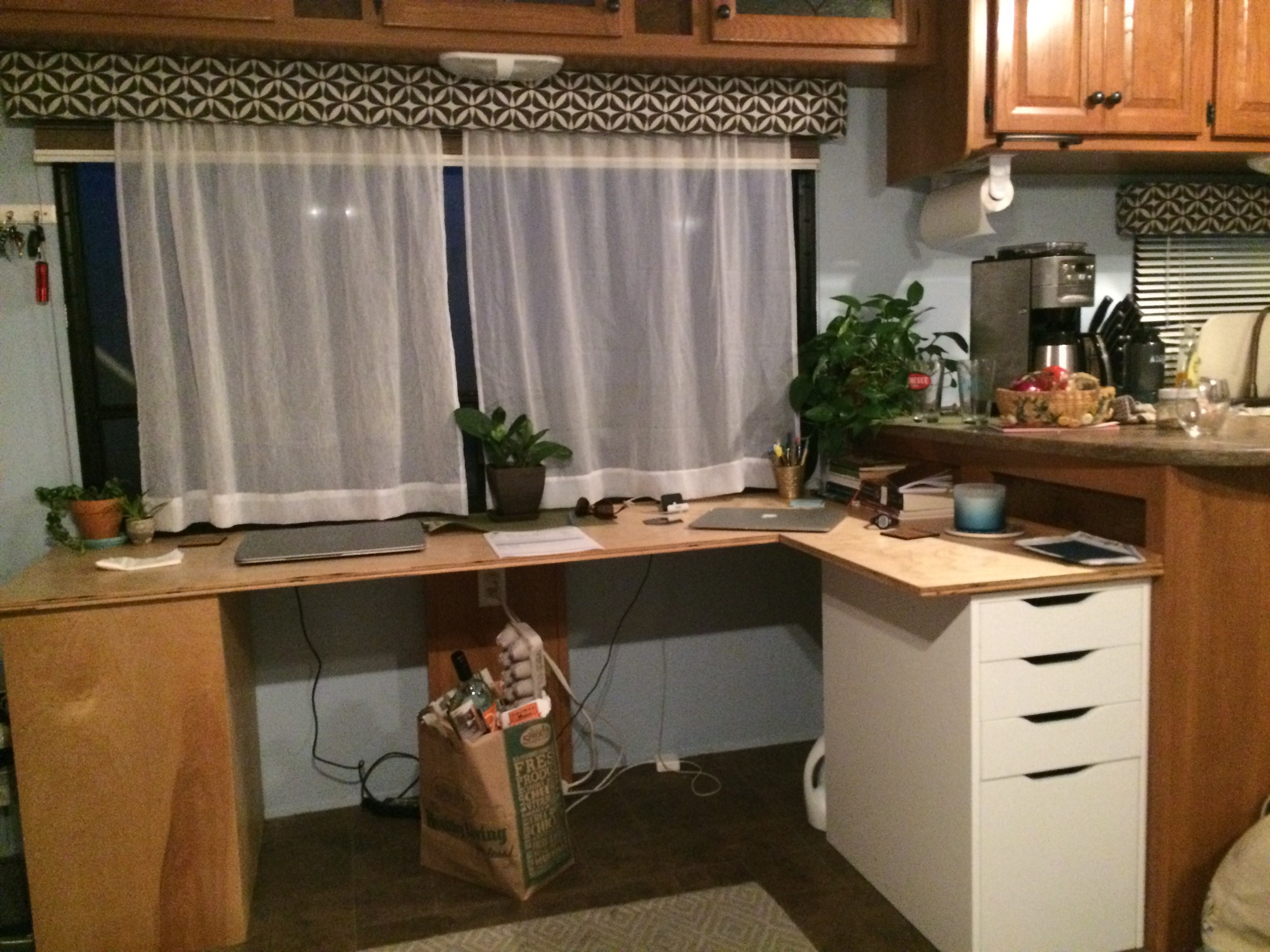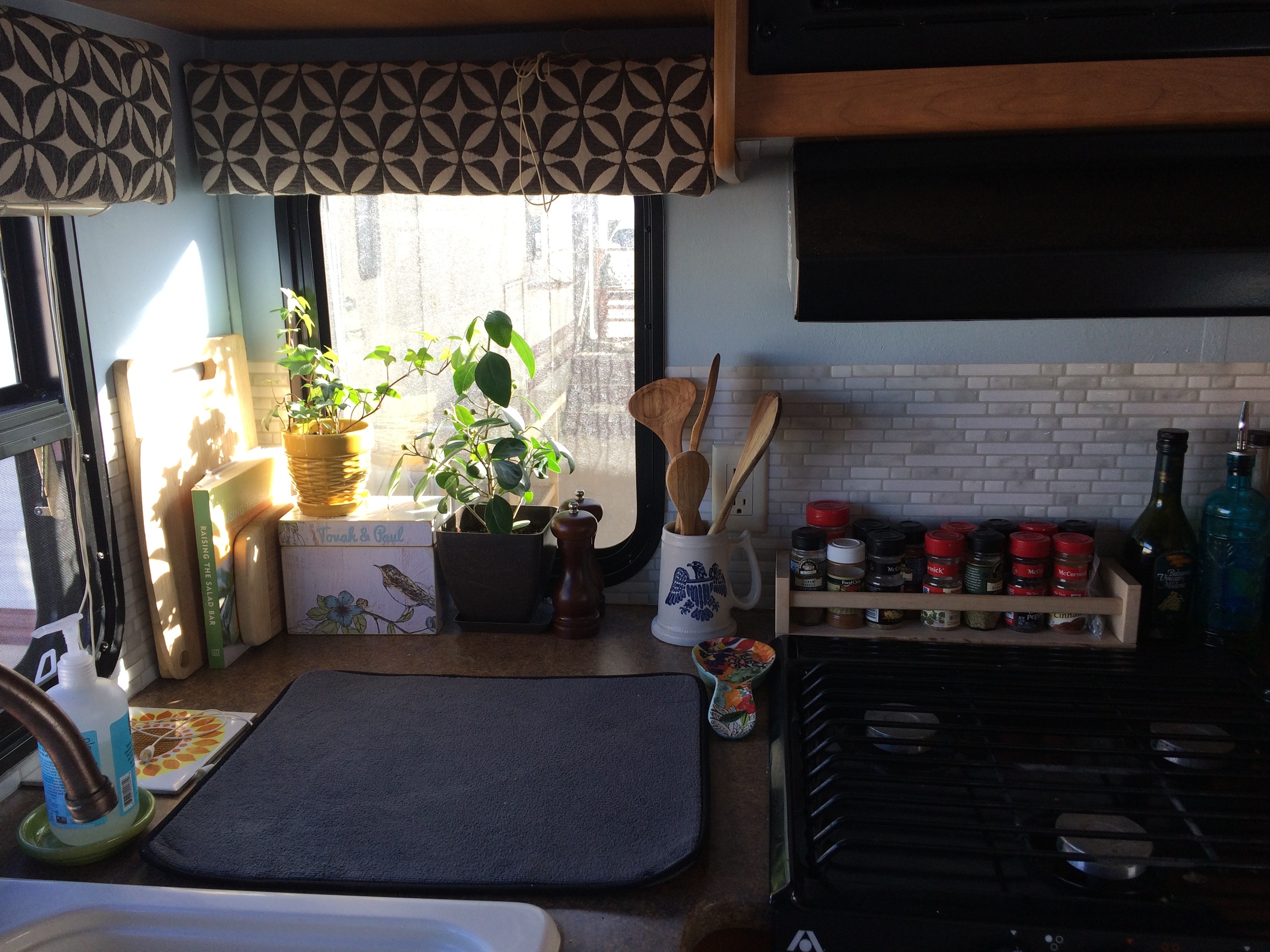 Our very last night in town, we had everyone over for more wine and ogling our new creation. A champagne toast and lots of laughs and gratitude lingered in the back of my aching head as we pulled out of the drive and on to the road the next day.
STEP 21: DRIVE OFF INTO THE SUNSET. TRAILER LIFE HAPPILY EVER AFTER.